Vulnerability is not weakness, and the uncertainty, risk, and emotional exposure we face every day are not optional. Our only choice is a question of engagement. Our willingness to own and engage with our vulnerability determines the depth of our courage and the clarity of our purpose; the level to which we protect ourselves from being vulnerable is a measure of our fear and disconnection."
– Brené Brown, Daring Greatly
Our book study for Lent 2017 will be Brené Brown's Daring Greatly. Dr. Brené Brown is a research professor at the University of Houston Graduate College of Social Work. She has spent the past thirteen years studying vulnerability, courage, worthiness, and shame.
Together we will explore and discuss Brown's dynamic and engaging book on vulnerability. Brown explains how vulnerability is both the core of difficult emotions like fear, grief and disappointment and the birthplace of love, belonging, joy, empathy, innovation, and creativity. She explains that when we shut ourselves off from vulnerability, we distance ourselves from the experiences that bring purpose and meaning to our lives.
Please register by clicking the link below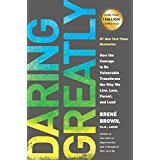 by January 11th to ensure you receive your copy of the book by Sunday January 15th. The books cost $15 each. When you receive your book, you will also receive a more detailed schedule, letting you know which chapters will be explored on which Sundays.
Click to Register
Schedule
Sundays, 12-2 PM (please bring a bag lunch)
February 5
March 5
March 19
March 26
April 9