We are honoured that you are considering Symons Valley United Church to be a part of your special day.
We see people as unique, loved creations of God and welcome all people to the full life of Christian community, including marriage.
We believe God intends loving relationships to be faithful, responsible, just, healing, and sustaining of the couple and those around them, and that such relationships require preparation and nurture.
Your wedding will be one of the most important events of your life. Thank you for asking us to be a part of it. Our minister and our church staff will make every effort to ensure that all goes well.
We hope that the following suggestions and guidelines will prove helpful as you make plans for your wedding service.
Do we have to be members at Symons Valley United Church to be married there?
No, couples do not need to be members of our congregation in order to be married here.
We are an affirming congregation, and thus marriage is open to all couples who are legally able to marry.
We are also a community of faith, and as such, the service we offer for the celebration of your marriage is one where God will be invited.
Do you perform marriages for same sex couples?
Yes! Our wedding services are available to all couples who wish to proclaim their love through marriage regardless of sexual orientation or gender.
What dates are available?
As our church facility is used a great deal for rentals and other events, we encourage you to call us and speak to one of our ministers as soon as you have a date in mind.
Most weddings take place on a Saturday, with the rehearsal the evening before.
Once you have met with our minister, a damage deposit of $500 is required (by debit, credit or cash) is required to book the date. This damage deposit will be refunded after the wedding takes place.
Can I have a family friend or another minister conduct my wedding instead?
They are welcome, at our minister's invitation, to take part and participate in the ceremony.
However, all weddings that take place at Symons Valley United Church are officiated by our minister.
Is a marriage preparation course required?
Yes. It has been our experience that couples who participate in a marriage preparation course prior to their wedding, regardless of how long they have known each other and regardless of previous marriage experiences, often enjoy a richer relationship.
With this in mind, we require that all couples participate in a marriage preparation course. This can be done through Calgary Presbytery of the United Church of Canada (Phone: 403-287-0375) or at the Calgary Counselling Centre, 200, 940-6 Avenue S.W.(Phone: 403-265-4980). A very reasonable fee is charged for courses of this type (currently, it is $160).
How do we obtain a marriage license?
A marriage license issued by a certified issuer on behalf of the Government of Alberta must be obtained by you within 90 days of your wedding. This license should be given to the minister at least one month prior to the wedding ceremony. Weddings cannot be performed in Alberta without a valid marriage license.
When applying, both of you must be present. In addition, you will require your divorce papers (if either of you have been married before) and your passport (if either partner is not a Canadian citizen). Licenses may be obtained at any Alberta Registry Office. A fee will be charged for the issuance of the license.
What music is available?
Music for your wedding service can be provided by our church accompanist. There is considerable room for flexibility in wedding music and a wide range of appropriate music that can be chosen by you. Recorded music is also permitted if you should chose not to use our accompanist, however, overall costs of the wedding do not change if you choose not to use our accompanist.
Can decorations be placed in the sanctuary?
Yes. Many couples choose to have flower arrangements, bows on the seats, candles and other such decorations to enhance their ceremony. We have flexible seating, and can easily arrange for the aisle to be in the centre. If you wish to use bows at the end of the rows of seating, these need to be secured using pins, ribbon or elastics. Candles are permitted as well. These need to be provided by the couple, and should be dripless if possible. Due to the difficulty of clean up, confetti, rice and/or bubbles are not permitted in the church. Please speak to the minister officiating your wedding for further questions regarding decorations.
Can photographs be taken during the ceremony?
Yes. Photographs may be taken as the wedding party enters (the processional), signs the documents (register) and exits (recessional). We do ask that no flash photographs be taken, as the use of flash is incredibly distracting. If you have hired a photographer to take pictures, please ensure that they speak to the minister officiating your ceremony for appropriate places and opportunities to take pictures.
Can the ceremony be videotaped?
Yes, provided the camera does not use lights and it remains stationary in one location.
What is included in your wedding package?
Should you chose Symons Valley United Church for the celebration of your wedding, the following is included:
Our minister typically meets with you as a couple at least twice, to get to know you a bit as a couple, to talk about your hopes for your ceremony, to walk through choices for your ceremony itself, the rehearsal time, and the actual wedding ceremony.
Our church accompanist.
Our Audio/Visual person at both the rehearsal and wedding ceremony. They provide microphones to the minister performing the wedding, as well as any other audio or visual support. Should you wish to include a Powerpoint presentation as part of your ceremony (provided ahead of time), they would run this at the appropriate time.
A wedding host who assists our minister at both the rehearsal and the ceremony, doing such things as offering directions to the washrooms, pinning corsages, affixing bows to the chairs, etc. Overall, their role is to help our minister ensure all goes smoothly on your special day
Who can be contacted for further questions?
If you have any further questions, please do not hesitate to contact our minister, or the church office at (403) 274-2361.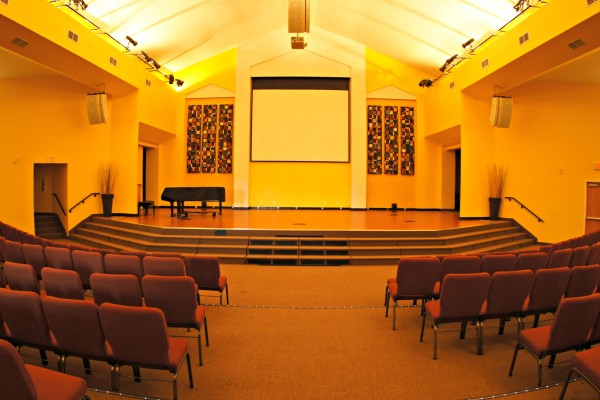 Sanctuary from the back with a centre aisle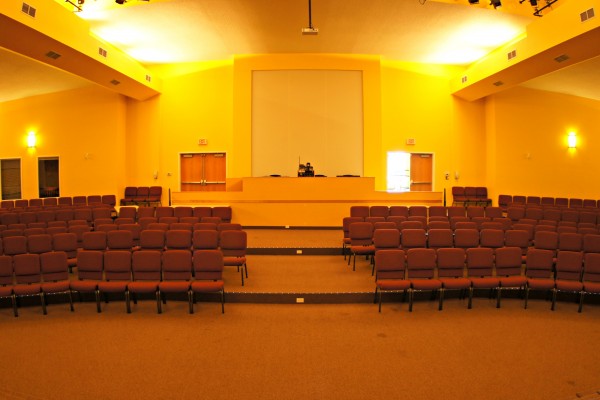 Sanctuary from the front with a centre aisle