Sunday November 29, 2020 Service
THERE'S A PLACE FOR YOU
Symons Valley United Church in northwest Calgary worships each Sunday via Livestream. We are your church at the centre of the community—there is a place for you. SVUC an affirming community of faith that welcomes all people. Bring your questions, your doubts and beliefs and join with a diverse group of people learning and exploring how God moves in our world. Each Sunday we pray and sing together and explore the teachings of Jesus.
Are you new to Symons Valley United Church? Our regular programming has been modified during this time of physical distancing. If you would like to participate in our weekly Coffee Talk gatherings and the Bible Study, please contact the office for coordinates for the Zoom meetings. We also have a book and puzzle lending library at the church if you would like new reading materials or a new puzzle to work on.
Greetings, grace, and peace!
Who in the world would ever have guessed we'd have a year like the one we've just been through? Who in the world would have guessed that Symons Valley United Church would have come through it so beautifully and with such creativity? We hope you'll join us in giving thanks to God for leadership shown by congregation members, our staff,  and our ministers Vicki and Stephen as they adapted "on the fly" to provide continued ministry in the face of ever changing restrictions.
This year's Stewardship Campaign's theme focuses on Joy and how ordinary people's extraordinary actions contribute to Joy in our community. Your financial support means more now than ever to keep the flexibility, creativity, and faithfulness shown by our congregation alive and thriving in the year to come.
Because we're still limited from meeting in person at the church building and to keep costs down, we will be primarily using email for correspondence such as this and links to on-line versions of the financial and volunteer pledge forms where we have been given your email address.  If you have received this letter and forms by Canada Post, it is because you haven't provided SVUC with an email contact address.
If you are reading this electronically, you can access the Pledge Form by clicking HERE
Otherwise, type https://www.surveymonkey.com/r/5WNRLF7 in your internet browser's address bar.
Please take the time to ask God to help you discern your financial and volunteer pledges for 2021. As you do, consider praying this prayer:
Great One, for you the floods clap, for you the hills sing. You know my situation better than anyone.
Take my credits and debits, ins and outs, my pluses and minuses, surpluses and lacks, and show me how to use them to join the great chorus of Creation. Amen
For all that we've already accomplished together during this challenging season, for all that we will accomplish together in the future, thank God and thank YOU.  Until we can physically meet again, let us be together for joy.
In faith,
Your Stewardship Team
Bret, Debra, Heather, Katelynd, Marci, Michelle, Sandy, Vicki, Wayne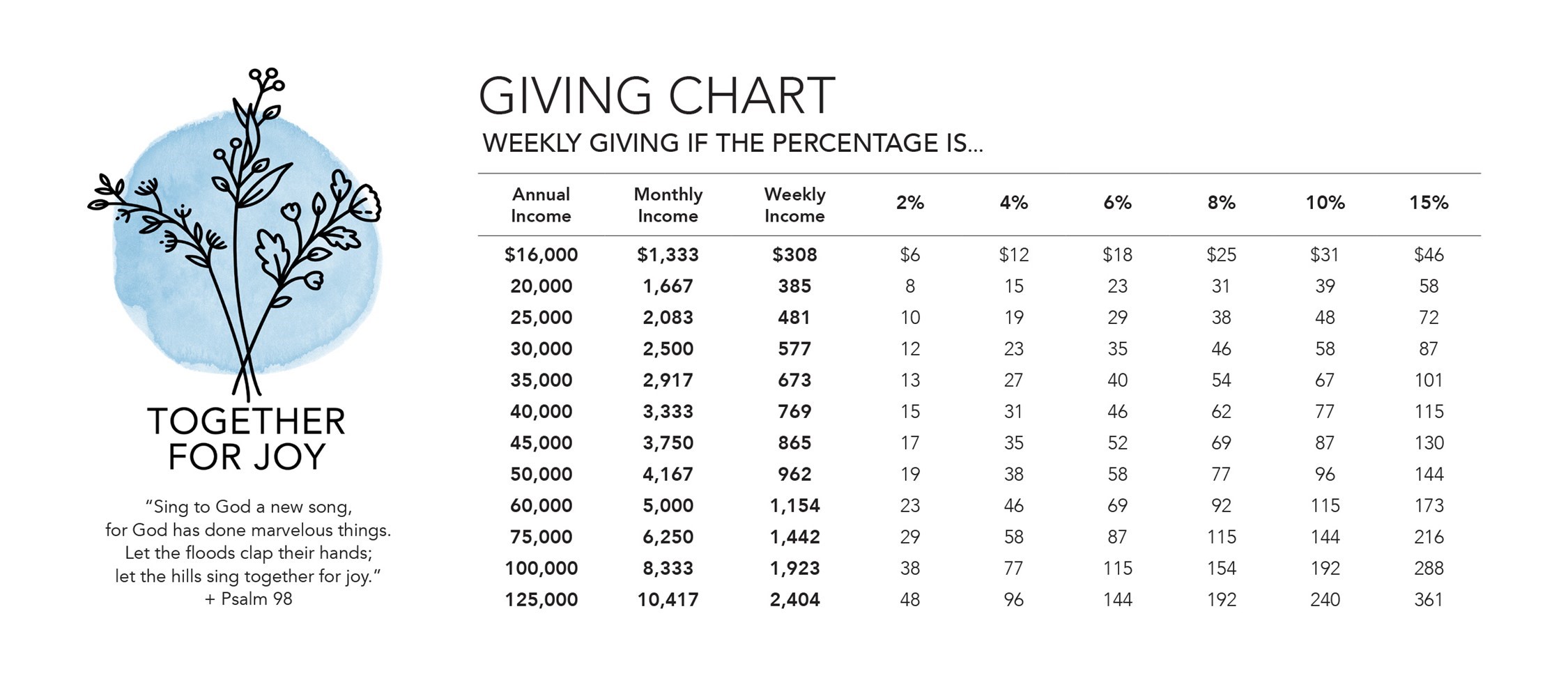 Please visit these social media links often, and check for any changes and updates regarding our worship services.
On a Sunday morning, you can expect to find:
Our worship service broadcast via Livestreaming by clicking:
An engaging worship service that is usually an hour long – with excellent music, choir anthem, a time of prayer for ourselves and our community and a message offered by one of our two ministers – Vicki or Stephen
Donations
Even though the current situation with Covid-19 is making things difficult, we have systems in place so you can continue to show your financial support for our church community.
All gifts to Symons Valley are graciously accepted and sincerely appreciated. Please click on either of the links below to make an online donation. The one is for regular donations through Tithely and the other is to donate securities through Canada helps. To sign up for our Pre-Authorized Remittance program, please click the first button and select that option from the drop-down menu. Thank you for supporting the work and ministry of Symons Valley United.
Programming News
Please keep in mind that SVUC is an active congregation with multiple programs like:
The Good Food Box Program
The Grocery Card Order Program
Helping Clients of the Drop-In Centre
Inn From the Cold
Sandwich Making
Quilting
Children's Programs
Junior Youth Programs
Youth Events
Adult Programs and Faith Formation
Choirs
and like you, they are impacted by the new changes and at home isolation. You will find in the coming weeks ways we can connect online, resources for you and your family and much more coming so please stay tuned.