THE GOOD FOOD BOX MAKES TOP QUALITY, FRESH FOOD AVAILABLE IN A WAY THAT DOES NOT STIGMATIZE PEOPLE, FOSTERS COMMUNITY DEVELOPMENT AND PROMOTES HEALTHY EATING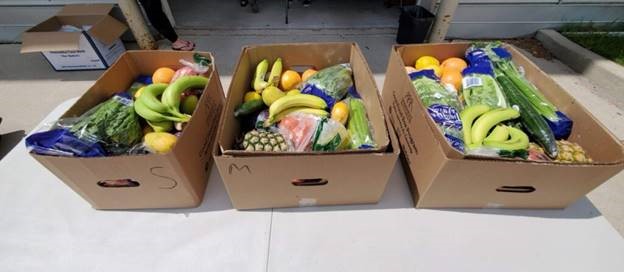 January 24 is order deadline for next Good Food Box 
Symons Valley United Church (SVUC) is pleased to offer The Good Food Box program.
Available to everyone in Calgary and surrounding areas, each Good Food Box provides a variety of affordably priced fruits and vegetables based on seasonal availability. Produce is purchased in bulk directly from growers and distributors. There are no "mark-ups," meaning discounts are passed on directly to Good Food Box clients.
Order and payment details  
The Good Food Box program is e-transfer only.
Three food box options are available:
Small Box – $25 (20 – 25lbs of fruit and vegetables)
Medium Box – $30 (30 – 35lbs of fruit and vegetables)
Large Box – $35 (40 – 45lbs fruit and vegetables)
Weights are approximate. 
To order, decide what size of Food Box you want and e-transfer the appropriate funds to
treasurer@symonsvalleyuc.com In the message box of your e-transfer, please ensure you note "Good Food Box order," and indicate the size/number of box(es) you have ordered, your phone number and email address. Once you send your payment, your order is complete.
Delivery/Pick-up 
All Good Food Boxes are delivered to SVUC (38 Kincora Rise NW, Calgary) on the designated delivery date. You can pick up your box(es) in the main entrance of the Church.
If you cannot lift the box you ordered, please bring your reusable grocery bags to transfer your food to your vehicle.
In alignment with Covid restrictions, Good Food Boxes must be picked up during the hours outlined below. Food cannot be stored for pick-up on alternate dates. Contents of unclaimed boxes will be donated to others in need, with no refund.
The pick-up times on designated delivery dates are currently:
11 a.m. to 2:45 p.m. or
6 p.m. to 7 p.m.
The 2022 order/payment and delivery schedule is:  
Order/payment deadline                           Delivery date
Monday, May 9                                                 Thursday, May 19
Monday, June 6                                                Thursday, June 16
Monday, July 4                                                  Thursday, July 14
Monday, Sept. 12                                             Thursday, Sept. 22
Monday, Oct. 10                                               Thursday, Oct 20
Monday, Nov. 14                                              Thursday, Nov. 24
How to contact us 
If you have questions or comments about The Good Food Box at SVUC, you are welcome to email goodfoodbox@symonsvalleyuc.com   One of our SVUC volunteers will follow up with you directly.
SVUC offers The Good Food Box program on behalf of Community Kitchen. For more information about Community Kitchen, and the many programs it offers, click here.